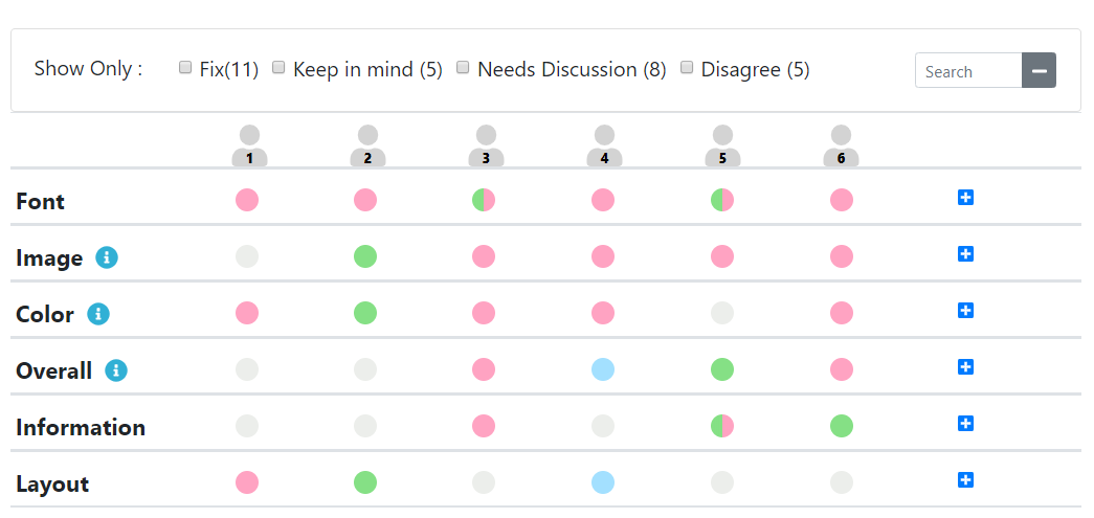 Decipher: An Interactive Visualization Tool for Interpreting Unstructured Design Feedback from Multiple Providers
ACM CHI'20
In creative work such as design, writing, and engineer, intreprting feedback from diverse audiences is hard because the feedback can vary in focus, differ in structure, and contradict each other. In this work, we conducted a formative study identifying the common strategies and criteria that experts employ when interpreting feedback from multiple providers. Based on the findings, we created a new tool (Decipher) that enables designers to visualize and navigate a collection of feedback using its topic and sentiment structure. We found that Decipher helped users feel less overwhelmed during feedback interpretation tasks and better attend to critical issues and conflicting opinions compared to using a typical document-editing tool.
screener survey interview think-aloud approach qualitative coding within-subjects experiments comparative survey one-sampled t-test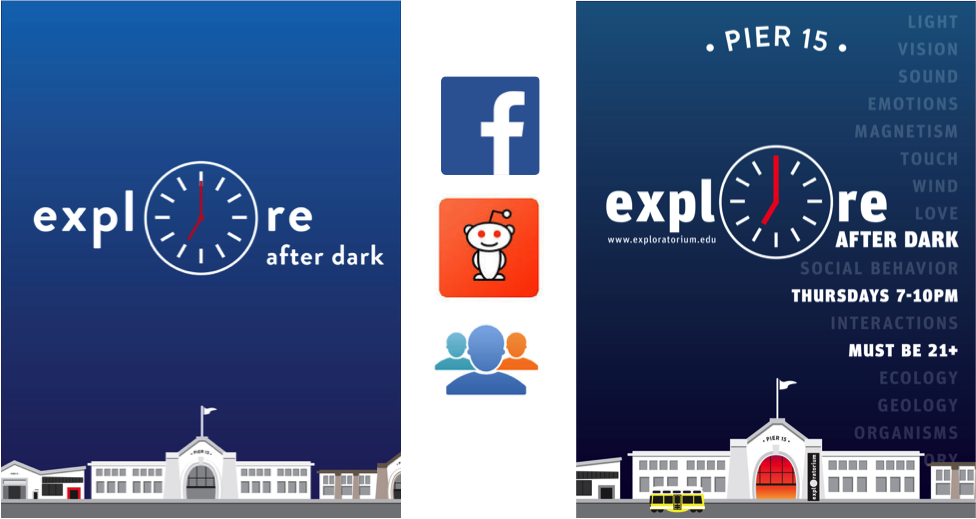 Combining Feedback Review and Reflection to Improve Iterative Design
ACM CC'17
For feedback to be effective, it requires the recipient to interpret, learn, and act on it. To help users better translate feedback into actions, we draw inspirations from learning and design by developing a lightweight reflection activity and testing its placement relative to feedback review for iterative design. We found that reflection after feedback review led to the largest increase in the revised design quality and without designers over-estimating the amount of improvement they made. Designers reported that the reflection activity helped them recall their design goals, question their choices, and plan and prioritize their revisions. This work offers deeper empirical understanding of how ordering reflection and feedback review affects designers' performance and perceptions for acreative design task. We also offer implications for implementing a reflection activity in feedback platforms to encourage its adoption.
online user study between-subjects experiments task analysis (logged data analysis) survey qualitative coding ANOVA + post-hoc tests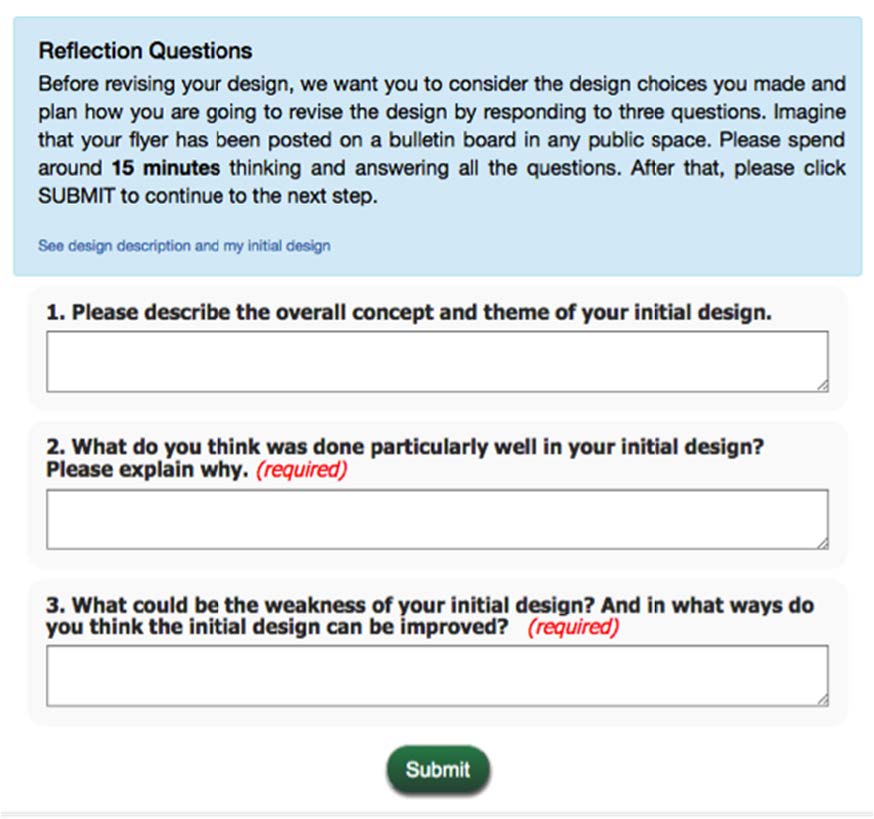 Investigating How Crowd Incentives Affect Online Feedback Generation
ACM DIS'16, ACM CHI'17
Increasingly, users seek feedback on their creative work from social networks, Web forums, and paid task markets which demand different amounts of social capital, financial resources, and time. However, it is unclear how the choice of the crowd platform affects feedback generation. In this study, we recruited designers to create visual designs for problems of their own choosing and revised the designs based on the feedback received from MTurk (financial), designers' own social networks accessed via Facebook, Twitter, and email (social), and Reddit or other Web forums (enjoyment). We measured key attributes of the feedback including perceived quality, quantity, length, and valence; and categorized its content. Based on the results, we formulate an emergent framework for recommending which crowd platforms to solicit feedback from and at which iteration to maximize attributes of interest including quality, quantity, content category, and valence
online user study between-subjects experiments survey qualitative coding content analysis CHI-square test ANOVA + post-hoc tests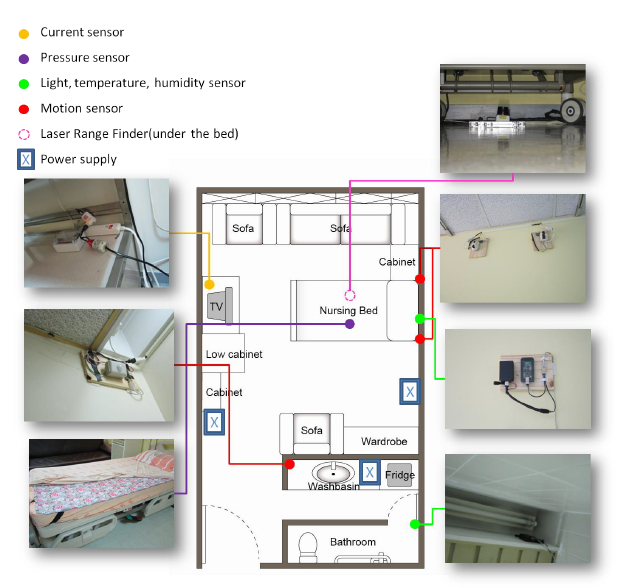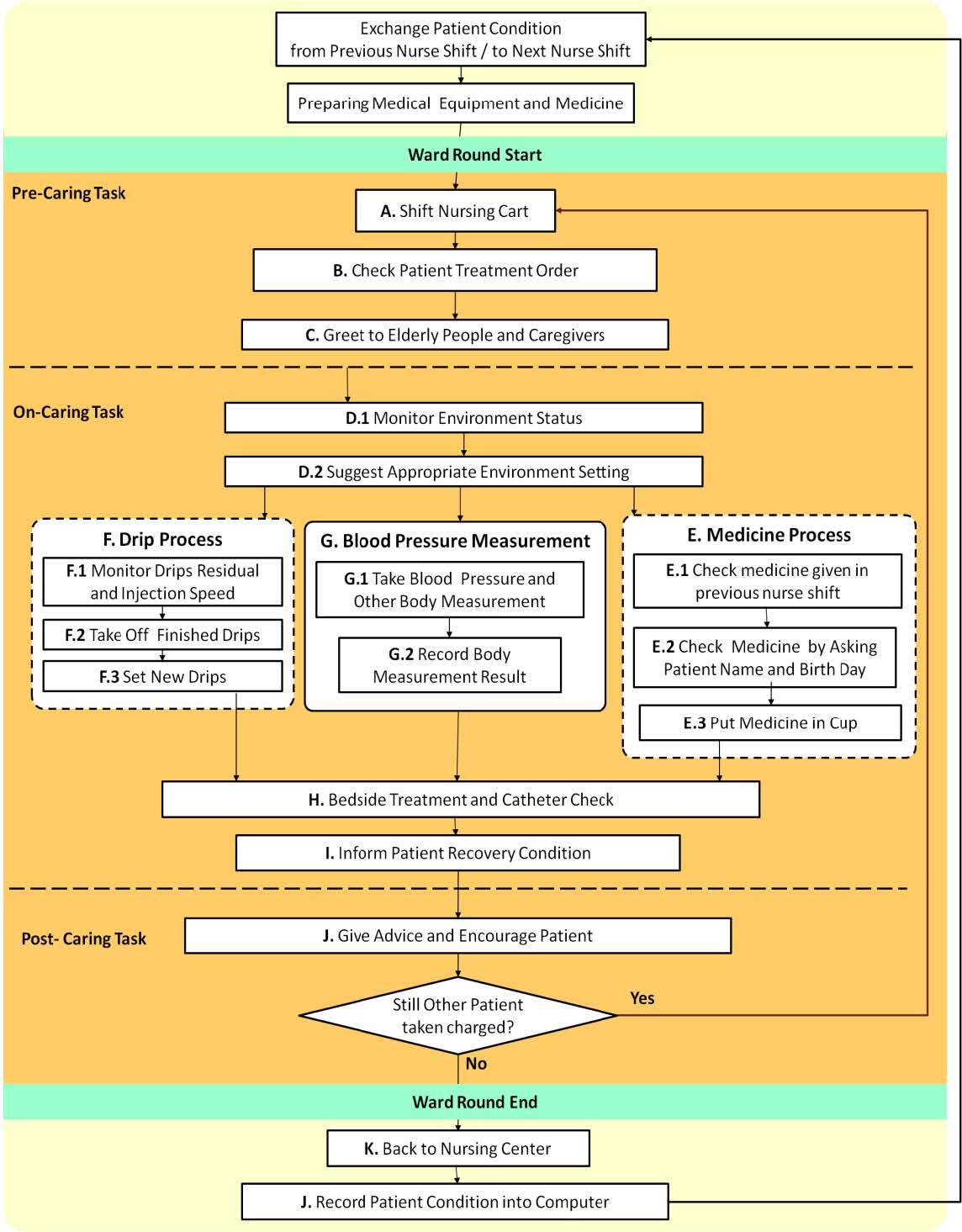 An Empirical Study on Engineering a Real-World Smart Ward Using Pervasive Technologies

ACM HCII'11, IEEE System Journal 2016, ACM ICOST'12

The shortage of medical staffs has become a critical issue due to the rapid growth of aging population. Numerous attempts have been made on devising pervasive healthcare systems to precisely and continuously monitor patients' health status. However, the transformation from prototypes in the laboratory to practical systems in a medical institution is still a challenging task.

My master's thesis adopts an ethnography-like approach to probe system requirements. Specifically, I performed field observations at the real-world hospital for ten full working shifts (including day and night shifts). Based on my observations and recorded data, I conducted interviews with medical staff and performed a focus group session to confirm the insights generated from the field study. I then designed and deployed a smart ward aiming at revitalizing post-surgery elderly patients both in physical and mental factors. My thesis and follow-up studies report the progress and lessons learned from the six-month deployment of our healthcare system in a real-world smart ward of National Taiwan University Hospital. We describe techniques proposed to deal with three essential challenges: design for essential needs, design for user acceptance, and design for maintenance. The system is evaluated empirically by deploying two applications in the field. Based on the results of field interview and questionnaires, this work is a milestone of a persistently running pervasive healthcare system deployed in a hospital.

Awarded as the Best Master's Thesis in the Taiwanese Association of Artificial Intelligence 2011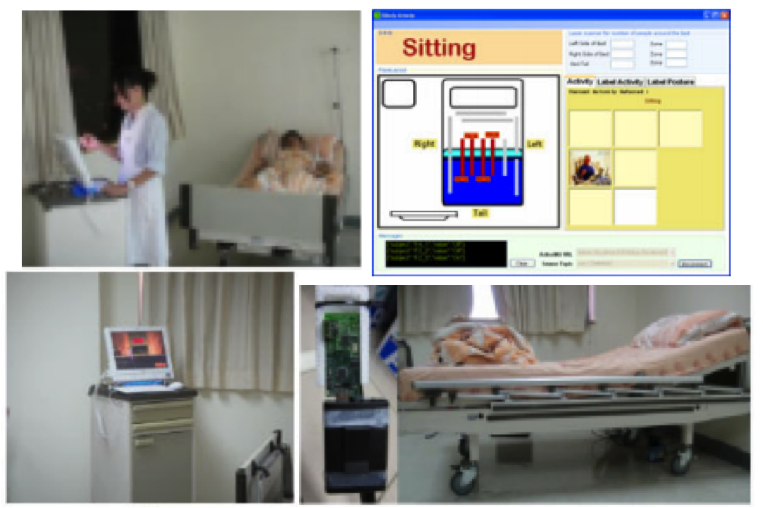 Human-Centric Situational Awareness in the Bedroom
International Conference On Smart Living and Public Health 2011
Monitoring bedroom activities is critical for elderly care. The risk of tripping increases at the moment when the elder people leave bed; dizziness condition may occur when they sit up from a long lying position. In addition, knowing the total time of caregivers being around may also imply the level of social engagement. However, bedroom is the place that requires the most privacy concern. In this work, we propose the use of ambient sensors and context fusion techniques to monitor five on-bed and bed-side activities including Sleeping, Sitting, Leaving Bed, Caregiver Around and Walking. Experimental results demonstrate the high promise of our proposed methods for bed-related situation awareness.
This work results in Taiwan Patent ID: I486914